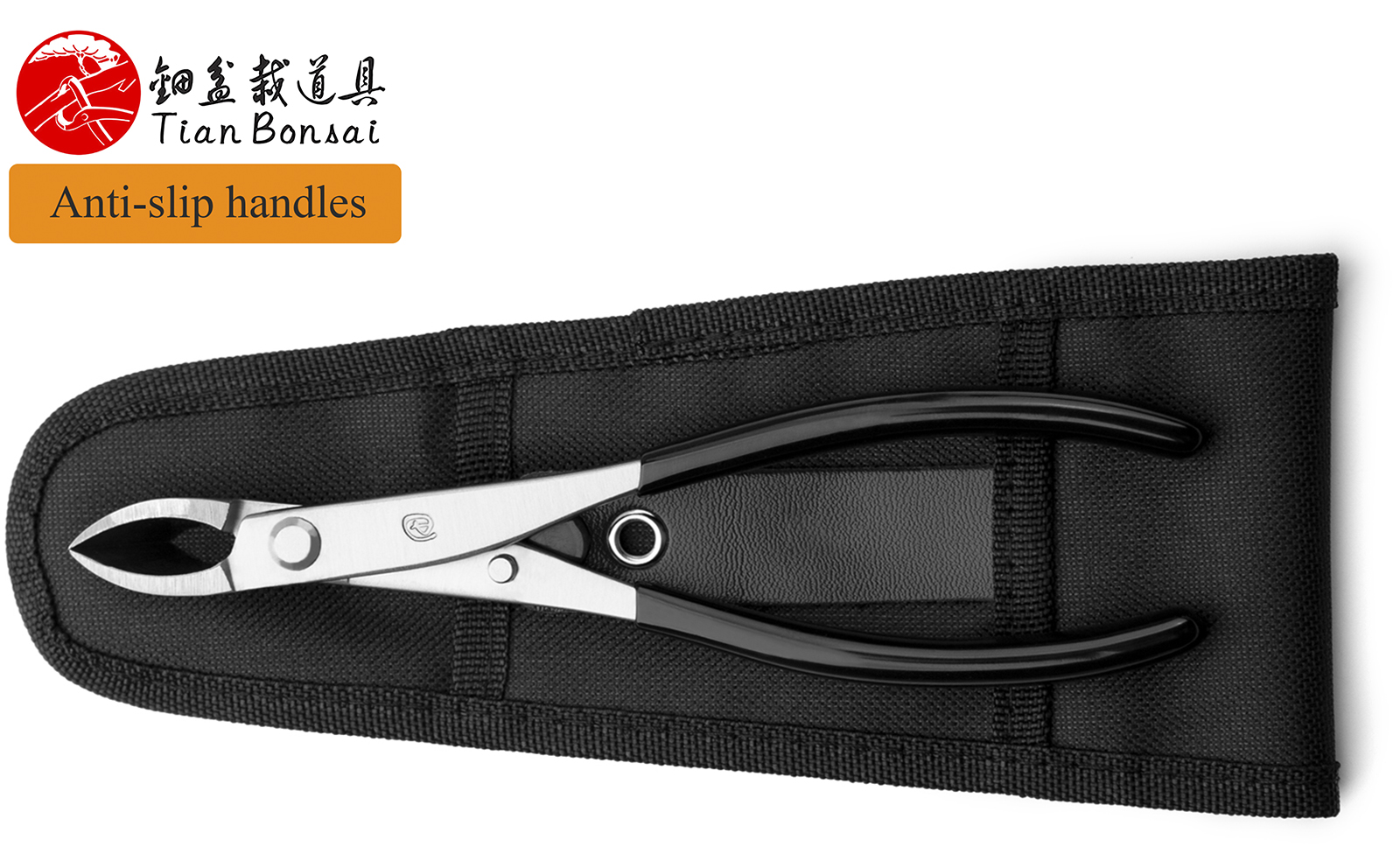 Name: narrow edge cutter SNS- 23
Material: alloy steel (3Cr13)
Surface Treatment: sanding
Edge Hardness: HRC50, quenching by the high frequency coil
Function Detail: this narrow edge cutter, is designed for the small size bonsai tree, to cutting the tiny branch, it have a straight cutting edge, use it to cutting the branch, could making a V-notch, so the tree's sap can covering the V-notch and let it healing quickly and excellent smooth.
Cutting Function: Cut wet branches less than 3 mm in diameter.
Non-slip handle bonsai cutter
Non-slip handle bonsai cutter is a new product of TianBonsai Company.
The pliers body is made of 3Cr13 alloy steel. The handle is wrapped with a layer of environmentally friendly rubber and plastic materials. The grip is comfortable and non-slip, providing extra protection for long-term work.
Precautions for the use of bonsai tools:
1. Our tools have very sharp blades. Please pay attention to the safety of users and nearby personnel when using it. Do not arbitrarily place tools on high places. If the tool is accidentally dropped, it may cause injury to personnel and tools.
2. Choose a bonsai tool of the right size. When pruning, the diameter of the branches should not exceed the cutting limit specified by the cutter, otherwise the cutter will be easily damaged.
3. Don't use bonsai tools to trim dry branches, otherwise it is easy to damage the tool blades.
4. The fine sand particles in the flower mud will damage the blade of the tool, so when using a bonsai tool to trim branches, pay attention to whether there is dirt on the branches. If there is dirt on the branches, clean them with a small brush before pruning.
5. Pay attention to protect the tool tip, even a slight frontal collision will cause damage to the tool tip.
6. Please maintain the tools after the work is completed.
Precautions for cleaning and maintenance of bonsai cutter and scissors:
1. After the work is completed, clean the sawdust and flower mud on the surface of the tool with clean water.
2. Wipe off water stains with a clean cloth and wait for it to dry.
3. Use a small amount of general anti-rust oil to drop on the tool riveting shaft.
4. Wipe off the leaking anti-rust oil with a clean cloth.
5. Store tools indoors.